Dianne Sunman
Dianne Sunman is our wonderful mother.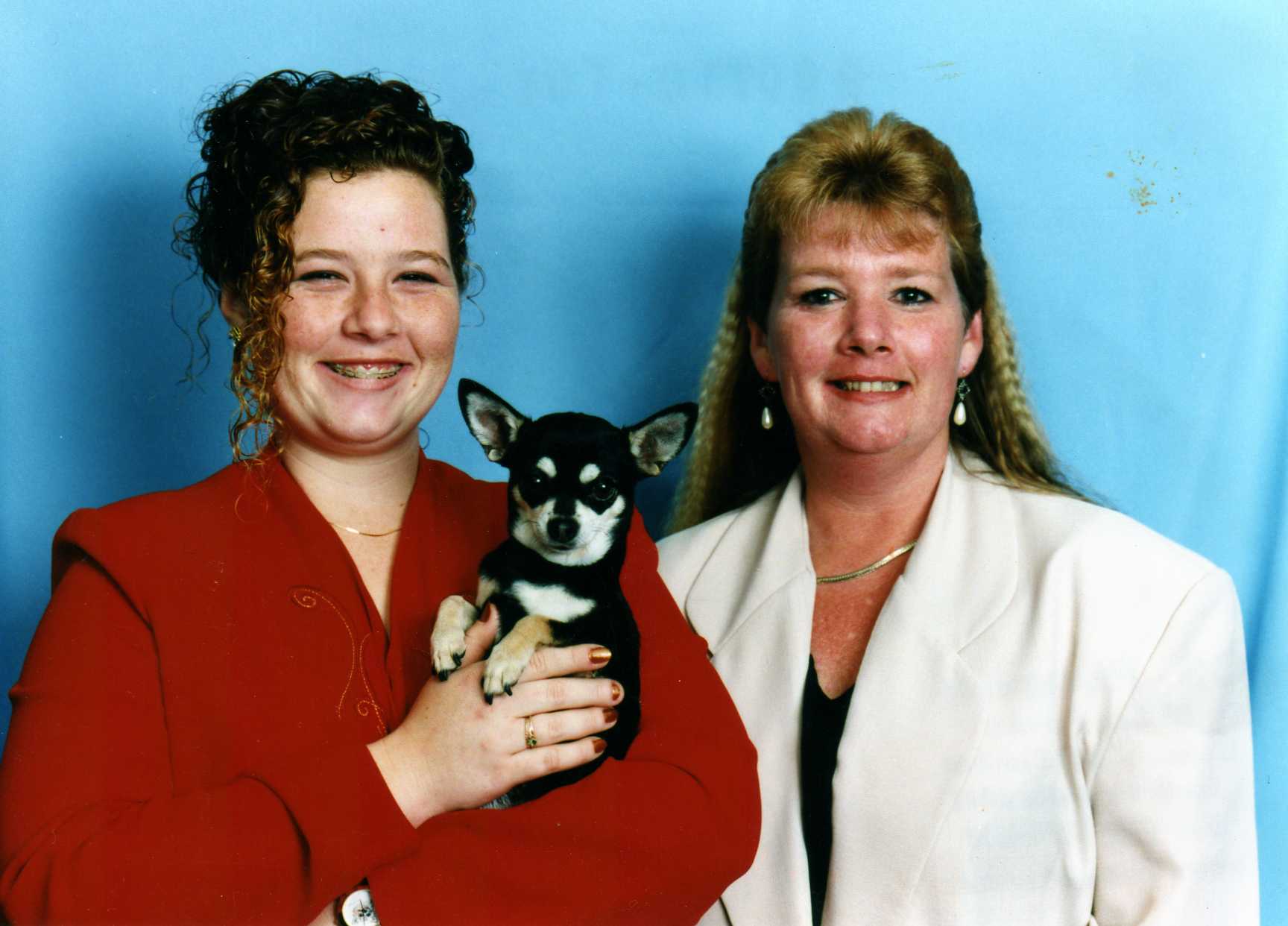 Mum was a true "Dog Lover" which no one can ever deny. Mum is the reason that our family is so heavily involved in dogs.
Mum and I had loved Chihuahuas together. You would see her every year at the Royal Adelaide Show every single day, just watching. She loved all the dog breeds, and liked to learn about them all. If you asked for her opinion she gave it truthfully, she was always willing to help new comers, and was totally addicted to Farmers Union Iced Coffee!
Mum started showing the Chi's as almost a "Side" breed along with the Shepherds & Standard Long Haired Dachshounds.
Mums friendship with Janine Warren (Janleo Chihuhaus) and Phil Harris (Donreo Chihuhuas) blossomed as I received a Chi as my 7th birthday present.
Mum then took her competative streak onto the Chi's. She handled many Janleo, Donreo and the great Peejayminnie dogs through to Best in Show wins and their titles. During this period we did not "Breed" many litters as we lived in the suburbs and could not keep many dogs. As time went on, I became heavily involved in the Chihuahaus and there was no stopping us, my aim as a handler was to beat mum, mums aim was to not let me beat her. It was wonderful and I will never forget how much fun we had out of this.
While we campaigned so many wonderful dogs to their titles (including a few Voncronan's) unfortunately we were classed as "Handlers" and not breeders, often being the subject of ridicule for this. After me moving to my own place, we were able to share the load of the dogs. We sat down and planned a couple of matings as we now had the room. We had already bred Ch Voncronan Grand Slam, Gr Ch Voncronan Clever Dick, Ch Voncronan Cisca Latte, but we still had to prove that we weren't just "Handlers"
We then came to know Muriel Locke (Leawood Kennels) and Alby & Sandra Webster (Allsan), and The Nanna aka Lyn & Roy Gilliam of Yorkmanor Yorkies. The friendships and knowledge that was now blossoming was very educational to both mum and myself and we loved and handled many an Allsan Chi to thier titles.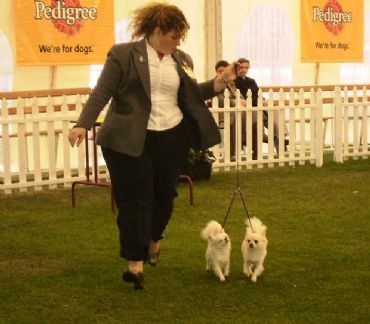 (Gr Ch Allsan Midnight Melody & Ch Allsan Midnight Majic - Winning Brace class at the Royal Show)
We then went on to breed Voncronan Busta Move, one of the most saucy Chis to ever hit the ring, just before his first outing at the Autumn International mum was diagnosed with Lung Cancer. This weekend of Bustas first 3 shows, he lightened our spirit and won Best Baby In Show (over 1400 entries)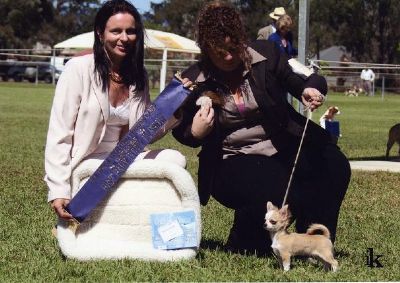 (Voncronan Busta Move winning Best Baby in Show at the Toy Specialty under Anu Lumervara)
Mum started Chemo the following week.
The next 12 months were very difficult. In and out of Hospital, many shows attended while mum waited eagerly by the phone for updates. During this time, Voncronan Chi's prospered as we had som very strong dogs now.
All mum wanted to do was get out there and show the dogs again. Her health had taken a huge blow, but we gave her the easy dogs to show. Mum was so proud that one of her first times back in the ring she took Reserve Challenge at the South Australian Chihuahua Club with our little Busta to our boy Gr Ch Kfinch Aussie Idol.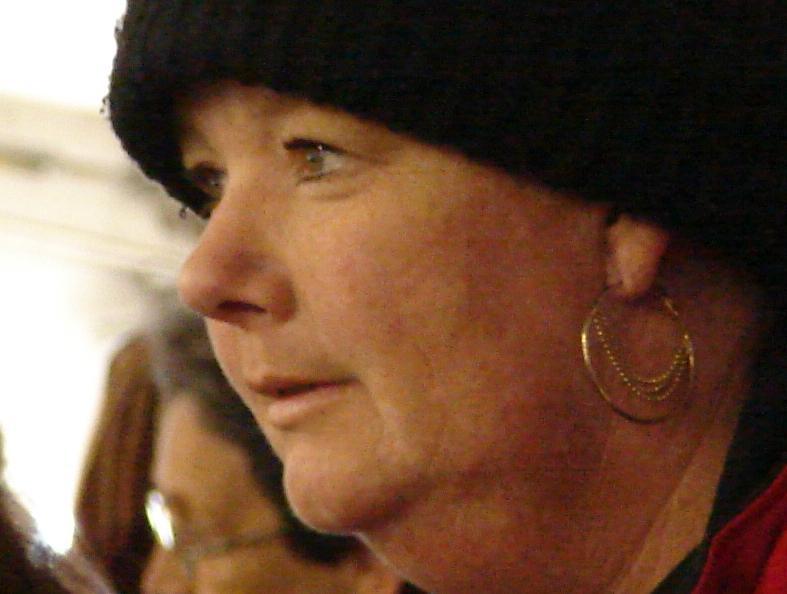 Amazingly, the cancer went into remission.
KFinch Aussie Idol was given to us by Kris Finch, who we titled to his Grand Championship with some amazing wins was now producing some strong prodgeny for us. Namely Ch Voncronan Blazen Idol, Ch Voncronan Tribal Idol.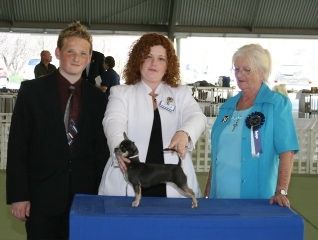 In July 2008 the cancer returned. We had just done two very important Matings.
Levi to Cisca which produced the ever lovable Ch Voncronan Cream Oth Crop (Buddy)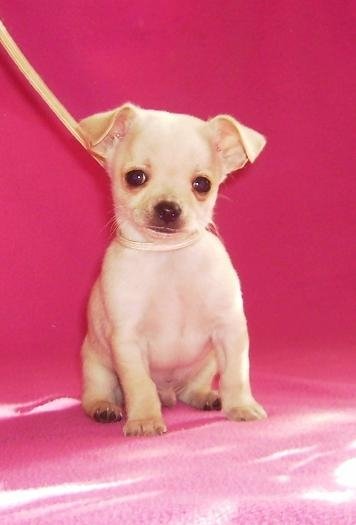 Lochey to Blaze which produced the Infamous Ch Voncronan Toil N Trouble (Harry)
In September 2008 mum lost her battle to cancer at 42 years old. It pains me that she isnt around to see how influential these two boys have been at Voncronan and to witness the first Voncronan to win an All Breeds Best In Show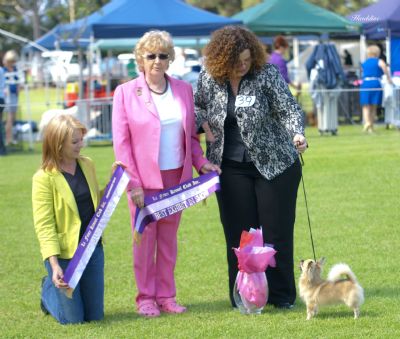 Mums life consisted of so many wonderful people and wonderful dogs, she was so proud of Alex, Tina and Myself for our involvement with the dogs, though this wasnt much, it was enough to make her happy.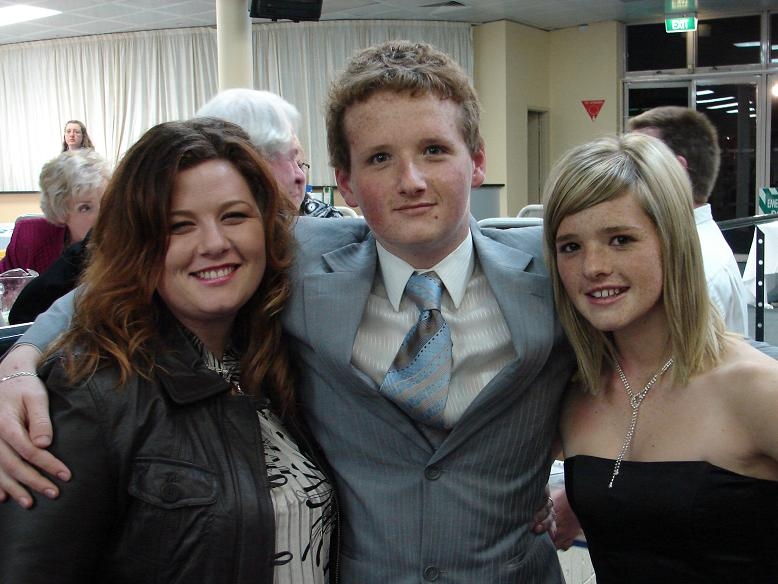 My involvement with dogs is due to mum, and every day that the dogs greet me is my daily reminder of how much I love and miss her.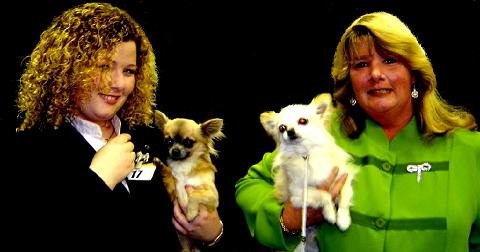 Click each link to view larger photo.
Contact Details
Voncronan Chihuahuas & Australian Shepherds
Quality ~ Style ~ Inspiration
Chihuahuas - Kylie Tilley - 0413 278 852
Aussies - Tina Sunman - 0466 838 378
Adelaide, South Australia