Levi, the soundness behind Voncronan
"Levi"
Levi is the epitome of a Chihuahua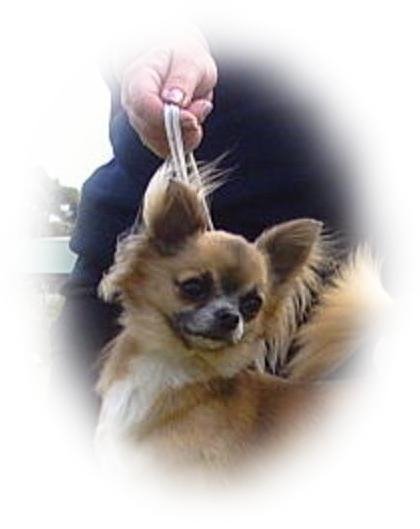 Levi was mums dog through and through, while mum was sick, Levi began to show for me. When mum made her return to the ring Levi started to move at mums pace, mum couldn't make it down the stairs to let Levi out, so when we let him out he would race up to her chair to say hello, and then scream outside for his morning pee. The same would happen when we brought him inside. Now that mum has passed away, he still runs up to her chair to see her.
Levi was given to us by Kris Finch of Kfinch Chihuahuas, he is our foundation dog, and for this we are ever grateful. Clive was supposed to be our foundation dog, but unfortunately we were never able to put any girls in whelp by him.
Critique from Judge, Mr David Smith (UK/NSW) - South Australian Championship Show "Dog Challenge, Best of Breed & Best in Show"
"A dog of rare quality, excelled in all departments, could not take my eyes off him and nothing I say will do him justice. I feel honoured to have judged him."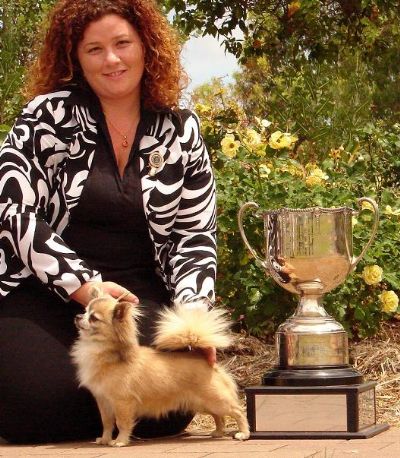 We had to work so very hard with Levi to get him in the ring. He wasn't campaigned as a baby, so this made things harder, and he is the type of dog which watches outside of the ring while showing. He wasn't a timid dog, more too smart for his own good. It took Levi a long time to get his confidence, but once he found his "Bark" he never looked back. Most famous as the Chihuahua who rolls onto his back while on the trolley being groomed for belly rubs.
Levi's career wins are numerous and glamorous. One of the highest awarded Chihuahuas within Australia with no less than 5 Specialty Best in Shows (Championship) 5 All Breeds Championship Best in Shows, 4 All Breeds Championship Runner up Best in Shows, and too many group wins to count.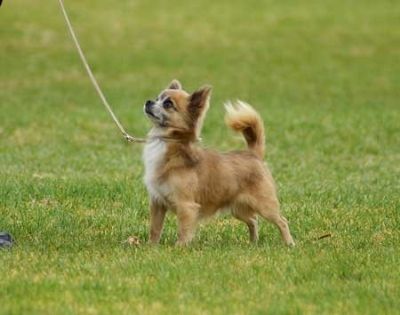 He qualified for Battle Of the Champions many years, and made it through to the Semi Finals in his first qualifying year. He was South Australia's point score winner (Dogz Online & Chihuahua Club multiple years)
A handful of our most memorable wins include the Hat trick – 3 All Breeds Best in Shows at the Broken Hill Dog Club, 2 x Reserve CC's at Chihuahua Nationals (1 as a veteran) he has won his class at every National he has competed in. Best in Group 3rd at the 2008 Royal Show, & 1st Place in the Parent & Progeny Class with his daughter Dahlia.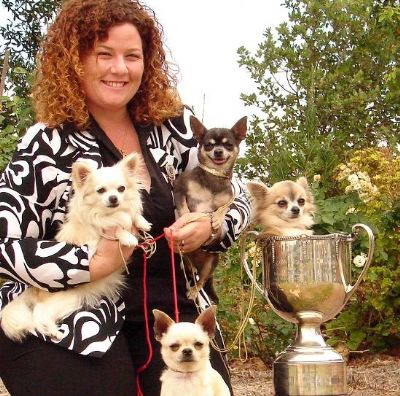 After winning All 4 Specialty CC's at the Chihuahua Club of SA Champion ship show under Toy Specialist Mrs T Cutler (Merrimalt Maltese). Bitch CC & Runner Up to Best In Show White Long Coat Ch Allsan Patties Priden Joy, Blue & Tan Smooth Coat Bitch CC Ch Voncronan Tribal Idol, Smooth Coat Dog CC & BOB Ch Voncronan Cream Oth Crop, and the lazy Boy in the Cup BEST IN SHOW Gr Ch Kfinch AUssie Idol.
Levi has proved himself not only has a show dog, but also with his progeny. Siring only 4 litters he has produced sound off-spring with not a single puppy having any Patella problems.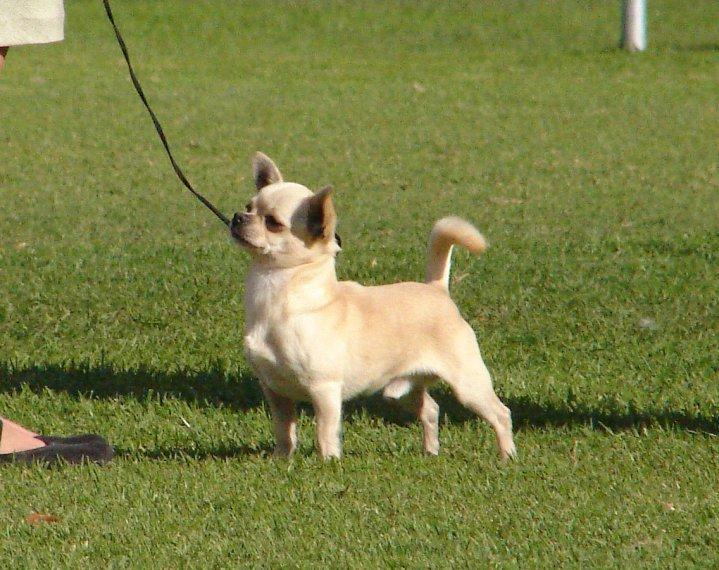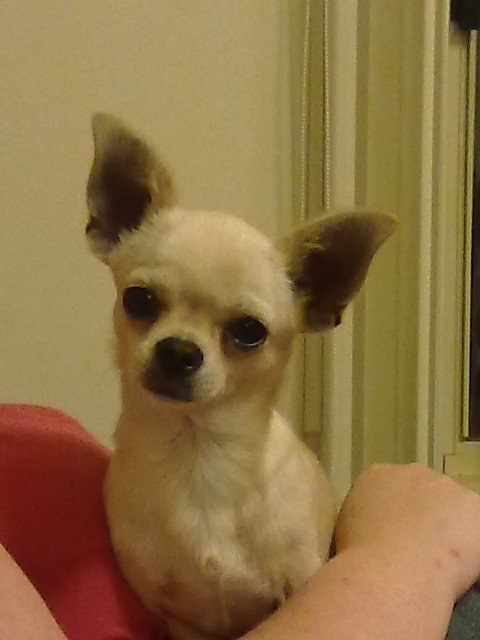 Buddy, Ch Voncronan Cream Oth Crop (Dam - Ch Voncronan Cisco Latte)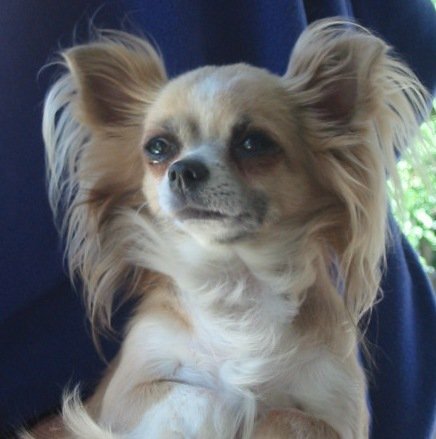 Blaze, Ch Voncronan Blazen Idol (Dam - Janleo Tiny Sunspice)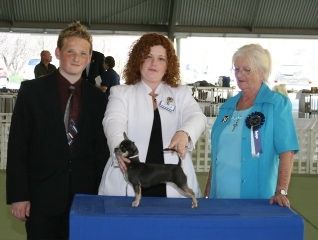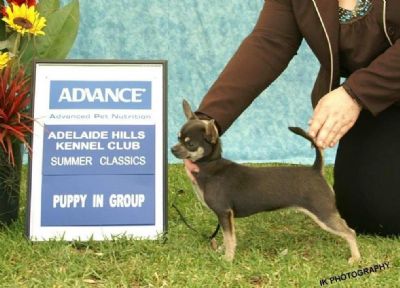 Dahlia, Ch Voncronan Tribal Idol (Dam - Janleo Tribal Dancer)
At the moment his second generation are proving to be the real stars, with Ch Voncronan Toil N Trouble (Harry) being the highest awarded Chihuahua within South Australia (to my knowledge) and his second set of grand children will hit the ring this weekend with the most beautiful heads and temperaments.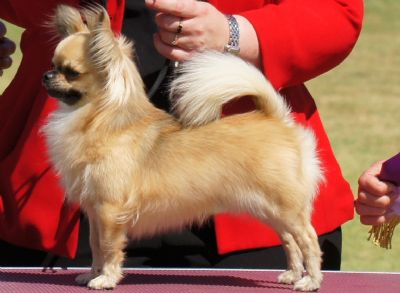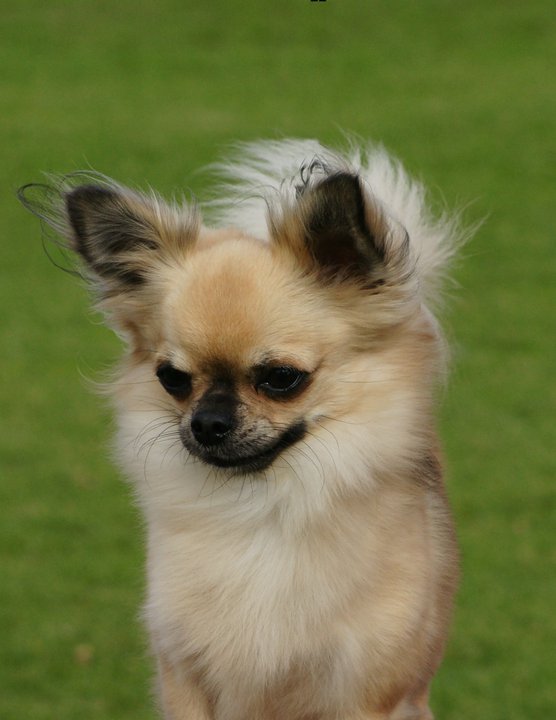 Harry - Ch Voncronan Toil N Trouble (S: Ch Bettachi Imflash Starman - D: Ch Voncronan Blazen Idol)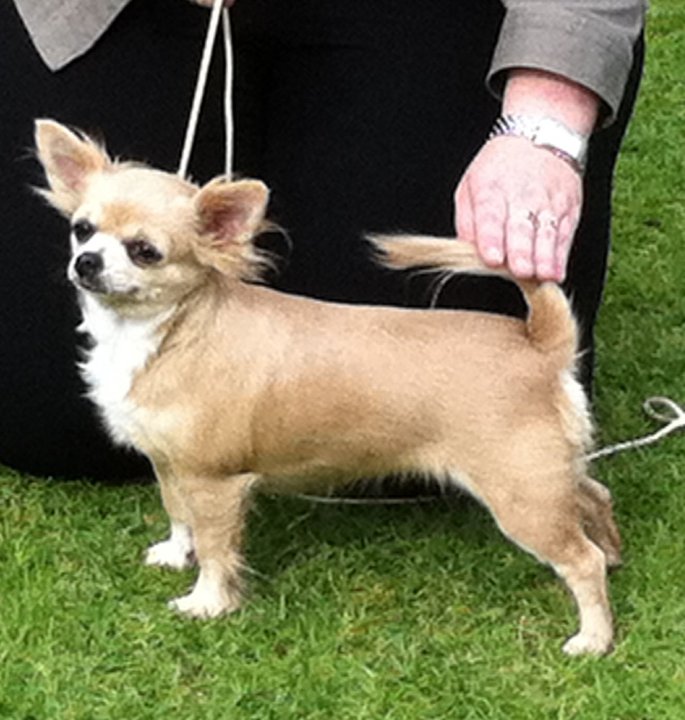 Piper - Voncronan Dubble Bubble (J & A Gunn) (S: Ch Bettachi Imflash Starman - D: Ch Voncronan Blazen Idol)
~~~~~~~~~~~~~~~~~~~~~~~~~~~~~~~~~~~~~~~~~~~~~~~~~~~~~~
To Kris Finch, we can not ever say enough Thankyou's, it is a credit to you that you have bred such an honest and sound dog.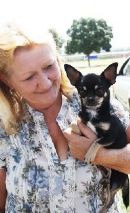 Kris Finch of KFinch Chihuahuas with Australias Current top Smooth Coat, Gr Ch Kfinch The Dark Knight
To Levi, you are such a special boy, mum will be missing you very much.

Levi is available at Stud to approved bitches with conditions.
Contact Details
Voncronan Chihuahuas & Australian Shepherds
Quality ~ Style ~ Inspiration
Chihuahuas - Kylie Tilley - 0413 278 852
Aussies - Tina Sunman - 0466 838 378
Adelaide, South Australia