Information about purchasing a puppy
Looking to buy a Chihuahua?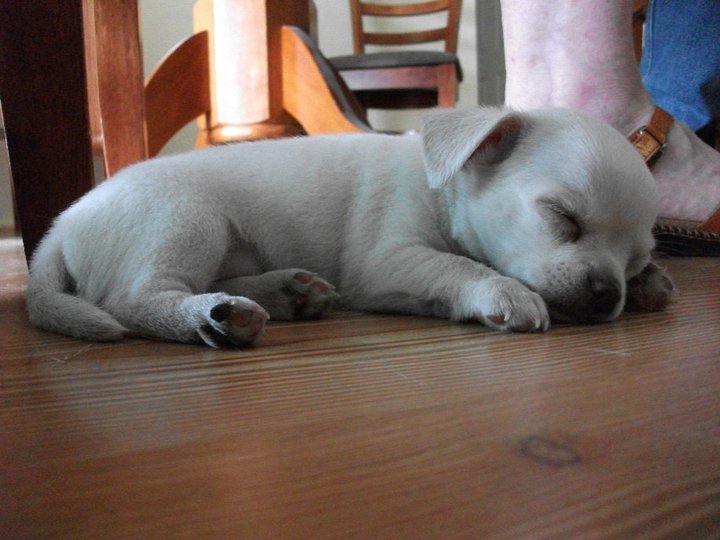 UPDATED JULY 2022
AVAILABLE:
1 Smooth Coat Black and tan Boy
1 Smooth Coat red Girl
If you would like to be kept up to date, please send me some detailed information about yourself via email to email
[email protected]
, and if suitable I will then pop you on the waitlist
COVID UPDATE
While we will have puppies in the near future (both Chihuahuas and Aussies) please consider the content of your query. We are receiving an abundance of people looking for puppies but as we limit our breeding, we will endevour to respond to every query, but a well worded query will be looked upon favourably.
Only genuine enquiries required, no puppy farmers.
------------------------------------------------------------------------------------------------------------------------------------------------------------------
If you are genuinely interested please contact Kylie Tilley - 0413 278 852, [email protected]

If you feel that you have the right home for these litle Mexicans and are genuinely interested email Kylie - [email protected], or call/text 0413 278 852 and provide some information about you and your family.
- If you would like to be on the list for a future Voncronan puppy, please email me your details and some information about yourself.
Remember, you will never find a specific dog that is White with silver markings, a rainbow tail and weighs 2.765grams, but, if you have patience, do your research for a happy, healthy, sound puppy in body and mind, you will eventually find the right dog for your family :)
Take the time to do your research, where has your puppy come from? Do the people you are thinking of purchasing from breed for a specific reason? Will they welcome you into their home? - stop the puppy farmers!!!!!
All of our babies go to their new homes between 3 - 4 months of age after their full set of vaccinations and de-sexing.
The cost for my puppies is $4000 for girls, and $3500 for boys regardless of coat or colour. This cost includes full vaccinations, desexing, micro-chipped, and have their official 'limit' pedigree papers, registration with DACO (as per local government law) and guarantee that the puppy has been raised and comes from a family home environment. This ensures the health of the puppy and means that all the "Maintenance" visits to the vet will not need to be carried out for another 12 months (approx 15 months old) when the puppy is due for its booster vaccination.
Full Vaccinations~Desexing~Micro-chipped~Official pedigree papers
All at Voncronan are raised in a clean home environment
This ensures the health of the puppy and means that all the "Maintenance" visits to the vet will not need to be carried out for another 12 months (approx 15months old) when the puppy is due for its booster vaccination.
To register your genuine interest please email [email protected]
Please include what area of Australia you are enquiring from.
Please keep in mind, if you are enquiring from interstate, puppies will not be available to their new homes until they are 4 months of age to ensure full recovery from de-sexing.
This is NON NEGOTIABLE!!
Just like purchasing something for your home you need to be educated in what you are buying. The commitment to adding a Chihuahua to your home is potentially a 12 to 15+ year commitment, you need to ensure that you research the breed and breeders to make sure this is the right choice for you and your family.
What are you Paying for when buying a puppy?
It was recently bought to the attention of the pedigree dog world a 'breeder' selling X-breeds for over $2500 a pup..yes really. Many of us were shocked and saddened. SO I thought I would compare costings from the 'Boutique Breeder' to an ANKC breeder so people can really see what they pay for..
Pet Shops are also churning out 'Designer Breeds' (read x-breeds with unknown heritage and DNA) for between $800 and $3000 as well. ie Cavoodle, Moodle, Shnoodle, Labradoodle, etc)
I have nothing against a cute x-bred but why not pick one up at the pound/RSPCA for under $500, desexed and ready to be well loved! Sadly the phenomenon of "Hybrid Vigour" is a marketing ploy used very very well.
Yes, Purebreds get ill, have faults, need vets too...but at least we TRY to do our very best to breed a healthy, sound and long living pet.
Anything bred on a large scale...I know where I would prefer my puppy raised...not in a building with numerous other "maternity areas" (These are STILL Puppy Farms, only they adere to all the rules and regulations and are clean and fairly well maintained. However, pups do not get the one on one and normal home situation environment like they do with a small scale breeder. Breeding is NOT for profit. We do it because we love our breed, our hobby, our passion.
ANKC (Australian National Kennel Club) breeder:
*Imports (my size breed) $9 -$15,000 for buying, vet, quarantine, shipping etc..
*Health testing parents ($ can be anything, depending what tests, vary breed to breed)
*Health testing pups ($50 - $100 per pup)
*DogsSA (or state body) registration $30+ per pup (depending on State / Ltd or Full) (Plus our yearly registration and kennel prefix rego: $160)
*Vaccination/Microchips - $120+
*Outside Studs (cost of a pup, plus flight to dog if needed, progesterone testing x $1500 +)
*Premium food for Bitch and pups
*Time..LOTS of it (over 5 months from time of stud to the time the babies go to their new homes) to raise, handle, love, socialise pups.
*A dog that will grow into what it actually is.
PEDIGREE PUPS: $1200 - $2500 (although hard to breed dogs between $2500-$4000 - ie Bulldogs, Frenchies, just to name a couple)
Boutique Breeder (possibly registered with a 'pet breeders registery') :
*A flashy website, with pretty photos of cute puppies
*Awesome marketing
*Vaccination/Microchips
*All/Most litters are sired by the same sire..
*Possibly clear by parentage for two disorders...but haven't bothered to test for the other relevant disorders in the two breeds used. (and yes there are generally tests for most breeds)
*Unknown heritage, or if known are usually bought as 'family pets' from breeders who spend years researching pedigrees.
*Photocopied or printed 'pedigrees'
BOUTIQUE BREEDER PUPS: $2500 -$4500
You tell me what you would rather buy?
So before you try to 'negotiate' price with a registered, ethical breeder, please think about the time, effort, love and money we put into OUR breeding to do the very best we can.
Contact Details
Voncronan Chihuahuas & Australian Shepherds
Quality ~ Style ~ Inspiration
Chihuahuas - Kylie Tilley - 0413 278 852
Aussies - Tina Sunman - 0466 838 378
Adelaide, South Australia