Guest Book / Feed Back
Thankyou for visiting my website.
I hope you have a good indication of Voncronans high ethical standards, and can see that we really do love our dogs and enjoy showing them along with being able to have a good laugh.
Before leaving please sign below to let me know you visited.
Thankyou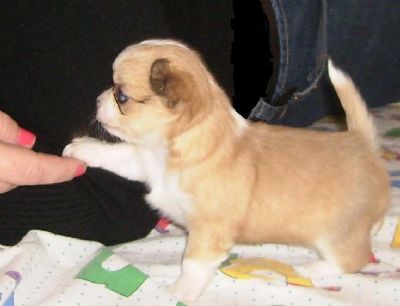 Name : Marian Streets
Web Site : http://none
Country : SA
How you found us : web search
Comments : a puppy raised in a family environment. What more could you want? I would love to have one of your chihauhaus join our family. Not looking to show but for a companion. Will contact you shortly
Date : 26-Aug-21

Name : Lisa Raeder
Web Site :
Country : Australia
How you found us :
Comments :
Date : 12-May-21

Name : Lisa Raeder
Web Site :
Country : Australia
How you found us :
Comments :
Date : 12-May-21

Name : Yvette Lagozzino
Web Site :
Country : Australia
How you found us : Dogz Online
Comments : My Chihuahua Libby is a Voncronan and she is the best. Such a lovely temperament and trains easily. Best decision we have made. I would definitely recommend Kylie to anyone wanting to purchase a Chihuahua.
Date : 12-Dec-17

Name : Kim Shelton
Web Site :
Country : Australia
How you found us : Meeting at a show
Comments : Hi Kylie, Lovely Website showcasing the excellence in your breed. One that reflects the breed standard. Congratulations on all your accomplishments in the ring. A wonderful end to Harry's story.
Date : 7-Dec-17

Name : Victor & Gayle Murray
Web Site :
Country : Australia
How you found us : dogsonline
Comments : We are interested in purchasing Sally. We have had a good look around the web & we think she will suit us down to the ground. Please contact us on ythe email supplied Vic & Gayle Murray
Date : 4-Oct-17

Name : Danielle Tanti-Osborne
Web Site :
Country : Australia
How you found us : Recommendation
Comments : We found Kylie to be wonderful to deal with, always very responsive and supportive. We couldn't be happier with our little boy Spike. We've had him almost a year now and he is a dream, full of spunk, but very cuddly. We can highly recommend Voncronan Chihuahuas.
Date : 24-Aug-17

Name : Helen Flavel
Web Site :
Country : Australia
How you found us : On-line
Comments : I feel so lucky to have three Voncronan chihuahuas. Angel is a short haired 11 year old and Oliver and Bella are 7 year old long haired chi's. There were many things that made me feel that Kylie was the breeder who was right for me. When I spoke to her, she didn't try to sell me a chihuahua, she was more interested in listening to me and the reasons why I believed a chi was right for me. When I went to pick up my first baby, Kylie had a week's supply of food ready for me to take home, she had prepared a beautifully decorated folder, which was full of all the information that I would refer too, many times over, plus her delicious dinner recipe which has kept my chi's healthy. Kylie breed's chi's who are sound in body and have amazing temperaments. Since picking up my first chi, Kylie is still in our lives, I make sure that we visit her at least twice a year and take advantage of her kind offer of free nail trims, my chi's have stayed with Kylie when I gone on holidays. Once a person buys from Kylie they become part of the Voncronan family and Kylie is always available to help with any questions I have. This photo was taken at one of Kylie's fun days last year. The kids were so excited when they spotted Kylie in the crowd 😂
Date : 24-Aug-17

Name : Carla Borrillo
Web Site :
Country : Adelaide, Australia
How you found us : Chihuahua Club of SA
Comments : My partner and I purchased a beautiful blue and tan Chi off Kylie late last year. She was absolutely fantastic throughout the whole process, providing us with all the information we would need plus more ! She breeds these little guys with love, and as a result we have the most beautifully adapted pup as part of our family now. He is fantastic with the three boys and has become the highlight of all our days ! We can't thank Kylie enough for breeding such a fantastic puppy and all the support she offered. She told me most people end up with more than one and I can understand why!! So happy!
Date : 22-Mar-17

Name : chloe
Web Site :
Country : Singapore
How you found us : paw base
Comments : Hi there, We are interested to get a long coat chihuahua female, do you have any at the moment, we live in SG, but have intention to go over and take a look and get them :) Our background: We do have 3 chihuahuas, 1 female, 2 males. They are a family, the female pass on due to old age and one of the male was imported to singapore from australia. I adopted all three of them. I'm intending to get one from reputable breeder, I have been searching for breeder in australia because I love the way the dog is been handled with care, proper ethics and conduct. Hope to hear from you soon. thank you God bless Chloe
Date : 1-Feb-17

Name : Carmel Dowley
Web Site :
Country : Australia
How you found us : DOL
Comments : Loved reading your site, very personal and inspirational peek into your life and a lovely tribute to your mum doing what you obviously love... I will come back, thank you. Carmel (Elenbah Papillons & Shelties)
Date : 23-Oct-16

Name : Frida kotevska
Web Site :
Country : Australia
How you found us :
Comments : You have the cutest little baby's. I lost my chihuahua last year at the age of 15 years old and I'm still heart broken. She was my baby and also my little shadow. I still have her mum she's 18 this year and feel so blessed to still have her in my life. When I'm ready for another one I will definitely be giving you a call.
Date : 15-May-15

Name : Angela
Web Site :
Country : Australia
How you found us : Word of mouth.
Comments : You have some beautiful babies. I'm on the search for a new baby myself. My little man past away last year and I'm now looking to find myself a little girl to give a loving home to. I'm hoping to find my little companion this year. Keep up the good work, I'll keep watching you're progress. Cheers Ange.
Date : 2-Jul-14

Name : Jeanette
Web Site :
Country : Australia
How you found us : Searching the web
Comments : just starting the search for a new family member. Lost our beautiful Bailey last year so now we're ready to love again. Your dogs are beautiful.
Date : 29-Jun-14

Name : Billy Choo
Web Site :
Country : Singapore
How you found us : Website
Comments : Hi Kylie, I am from Singapore. I am very impressed and very interested in your breeding lines, history and records. I was very active in showing dogs about 25 years ago, we have shown some Some Poms, Silky Terriers and Pugs. But due to overseas posting, I was forced to give up showing and keep them as pet with my parents. I always have great interest in Toy breeds, with the much smallest house that I am presently staying, I guest CHH is the best option for me if I want to continue showing and may be breeding. I am 56 this year, will be retiring in 5 years time as a Bowling coach, so my wife and I have decided to keep few dogs as companion (as do not have children), and myself would like go back to show ring to compete again as pass time hobby. If time and space allowed, then may be I will do some small breeding as a retirement job. The reason I am very keen in getting from from you is the follow sentence that triggered. All dogs are Patella tested on a yearly basis at time of vaccinations, we do not show or breed with dogs with these problems and aim to help those who do with our strong and sound stud dogs. Consistently breeding and competing with true Chihuahua type, and following it up with winning results at specialty and metro all breeds championship level Herewith, I am sincerely wish to purchase one or two show quality CHH from Harry's line, either puppies or young adults. Thanks. Appreciate your consideration. Cheers! Regards, Billy Choo
Date : 13-Sep-13
Page 1 of 2 Pages.
Add your entry to the Guest Book by filling in the following form.
Contact Details
Voncronan Chihuahuas & Australian Shepherds
Quality ~ Style ~ Inspiration
Chihuahuas - Kylie Tilley - 0413 278 852
Aussies - Tina Sunman - 0466 838 378
Adelaide, South Australia